Hello American Mafia! The FOX News network is proud to bring you the 7th installment of the Fox News Edition of the AM times. We stay super busy working around the clock to be your #1 news team. We are worldwide now since we have stations in 20 different countries around the world. But this is American Mafia, and we would be just as satisfied just covering the news here locally in the US.
We have just received some highly classified information about the mafia. The mob doesn't want us to be in possession of this Intel of course, and having it could put us in danger. Publishing it will definitely put us in danger, but we wouldn't have it any other way. Like our motto says, we are the only news station these days that is truly fair, balanced, and unafraid. Did you catch the last part?We are unafraid, we have no fear when it comes to reporting the most dangerous and deadly events.
The FBI discovered some things at the kingpins compound in Baltimore, Maryland. Mr. Benny Noodles, reputed crime lord, and leader of several factions of the american mafia was indicted last week on several charges. While the authorities were conducting their search and seize, they unearthed some highly classified Intel from the mansion. Benny had in his possession, a copy of the Mafias 10 Commandments. He also had books, and other paperwork that would ultimately give the prosecutors all the proof they needed to convict the reputed crime lord. We have decided to publish these commandments, and give those of you who are not in the life a glimpse into "the life"
"A Quorum of the top faction leaders met and agreed on rules and laws for the underworld of American Mafia. The Black Hand & AM Upper Echelon are responsible for being the judge, jury, and executioners of the American Mafia. They will enforce all the rules and laws of AM"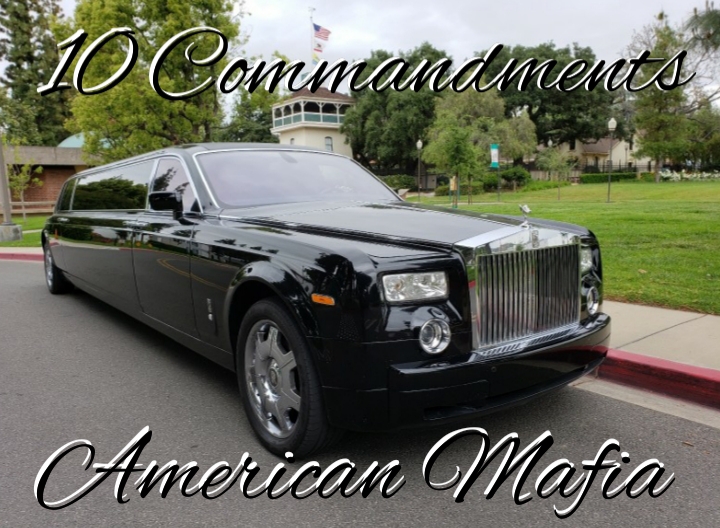 (10 Commandments Of AM)
⚠️•General Rules & Laws•⚠️
1.) BLOOD IN, BLOOD OUT: ⚠️
Permission/Blessings are needed in order to leave a family/faction. Without the bosses blessing, members who leave will be known as rogues, and they will be green-lighted and marked for death.
2.) STATE POLICY:⚠️
Destroying the ownership, taking the flag, and or claiming a state that is already owned and being ruled by an ultimate underworld kingpin is seen as an act of war. Perpetrators who break this policy will be green-lighted and marked for death. Permission is needed in order to become a kingpin of a state.
3.) CREATING FACTION HQs:⚠️
Obtaining the blessing/permission of a kingpin is needed before you can set up a faction HQ in that kingpins state. Follow the rules and laws of that kingpins state. If taxes are due to the kingpin weekly for example in order to operate in that state then its required to pay that kingpin a tax/cut.
4.) JOINING A FACTION: ⚠️(REQUIRED)⚠️
When you first hit the streets of AM, and rank to a thug, you have only 24 hours to join a faction. After 24 hours you become fair game and will most likely get tested and shot at regularly until you find yourself a family for protection.
5.) OMERTA (STRICT MAFIA CODE)
The code of silence and strict mafia code of giving respect to receive respect, honor, loyalty, and honesty are examples of the code. These things are our old ways and traditions. These things are very important in order to make it far in this thing of ours.
6.) MURDER/KILLING POLICY:⚠️🏴‍☠️⚰⚰⚰
Just like in real life the real mafia try and avoid murder at all costs. They will have dozens of sit downs first before coming to their final option of killing someone. Killing is bad for business and they truly want to prosper and grow more powerful. This cannot be done if everyone is dead. Permission is a must before killing a "Mademan". A sit down will happen and the "okay" will be given if it is absolutely necessary. Failure to comply will result in the perpetrators being green-lighted and marked for death.
7.) KIDNAPPING & MUGGING POLICY:⚠️
Mugging and kidnapping are seen as acts of war and will result in war if necessary. If you are mugged or kidnapped you have the right to mug and kidnap them back immediately. However you do not have the right to shoot somebody for it unless you ask permission first from your boss/leader.
8.) FORUMS POLICY:⚠️
Forum threads and posts MUST be in character (Roleplay) any OOC (Out Of Character) forum threads/posts will be immediately removed/deleted by the AM Admin Team. We hope you keep things respectful and clean of extreme profanities. The AM community thanks you.
9.) GAME RULES POLICY:⚠️
Do not break any game rules that will result in you getting banned or gagged.
10.) BE RESPECTFUL & HAVE FUN!!!:⚠️
Thank you residents of American Mafia.
Sincerely,
The Black Hand 🖐 & The A.M.U.E. 👑