American Mafia Resident: Joe_D_Foster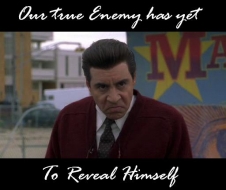 Make this person your
Rank (?): Lord of Anarchy
Family: Not in a family
Branch:None
State of birth:Nevada
Gender:male
Wealth:Loaded
Status: dead - - Sleeping - - free - - Funeral

- -
Sponsor:
Family Crew:
Date Joined: 25-11-2011 5:08 pm
Last Seen: 22-01-2012 4:03 pm
Marital Status: Single
Mail: Sent 0 - Received 0 - Unread 0
Social Status: Friends 0 - Enemies 0 - Likes 0
Coat of Arms
Titles
Ruler and Capo di tutti capi of Nevada.
Consigliere to the Corleone empire.
High Councller of AMFU.
Boss of Badfellas di Corleone.
Consigliere of Oklahoma.

Former LHM to the Corleone empire.
Former Ruler of New York.
Former Underboss of New York.

I AM THE EDITOR FOR THE AM TIMES. MESSEGE ME IF YOU HAVE A STORY YOU WOULD LIKE TO SHARE.

NEW STORY COMMING SOON

AMFU - American Mafia Families Union

-California: _Tolly_
-Colorado: Raymond
-Texas: Paulie-Gulteari
-Florida: BrunoTattaglia
-Michigan: Scarface_9407
-Illinois: Volfied
-New York: Ruthless
-Nevada: Joe_D_Foster
-Oklahoma: Michael__Corleone
-New Jersey: Goodfellas_

ANYONE FROM NEVADA NEEDS MY PERMISSION TO START A FAMILY (OR DIE)

"For, we are nothing without Brotherhood, And Brotherhood, is Nothing without your brothers. For Thee My Brother, For Thee, I'm Prepared For Glory. Where Friendship End, Family Begins. Forever as one, Till the Motherfucking End."

Michael__Corleone, Ruthless, Mr_Benny_Noodles, _Tolly_, Antonio-Castello, BrunoTattaglia, Joe_D_Foster, Don_Infernus, Raymond & Scarface_9407.
| | |
| --- | --- |
| | |