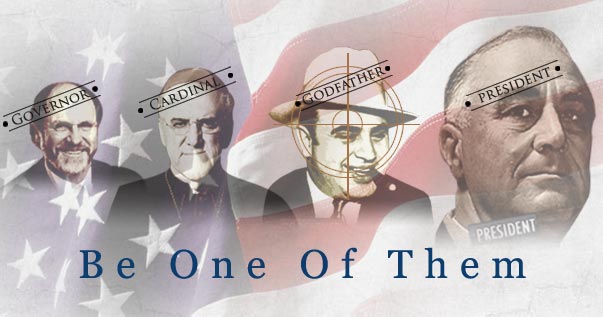 Welcome to the American Mafia Game. Start your career from a law obiding citizen and pursue your criminal career, or political aspirations. Advance from a simple thug to one of the most powerful ranks. Build your Family, make money and live the mobster life you always wanted.

Virtual State and Federal Jail and even Death Row for the ruthless killers. Kill too many and you will find yourself begging for a Presidential pardon.
Stock Market simulation based on real stock prices. Instant registration! No email confirmation, or activation required.
The best Mafia Game today
Join the American Mafia
The American Mafia is an unique browser game that stands out from the crowd. Crime and political ranks, marriages and drama, plots and wars will keep you on your toes. Experience the crime life, or some of the political ranks: State Governors, Church Cardinals and the President of the United States. Crime life not for you? Wall Street more appealing? Learn the ropes in our real-life stock market simulation and improve your stock trading skills. All of these great and interesting features are waiting for you, and most of all: IT'S ALL FREE. You don't need to pay ONE PENNY. Build your Empire! Sign up for the American Mafia Game and you will not be disappointed!