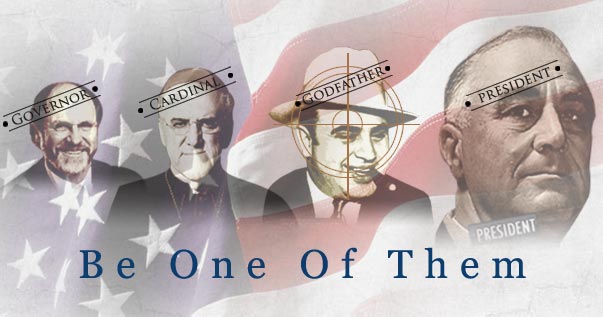 Welcome to the AmericanMafia.org Mafia Online Multiplayer Game. You can start your career from a law obiding citizen, or pursue your criminal career. Advance from a simple thug to one of the most powerful Wise Old Men. This is the best mafia game on the Internet. Join us and build your Family, make money, buy business, live your mobster life the way you dreamed of.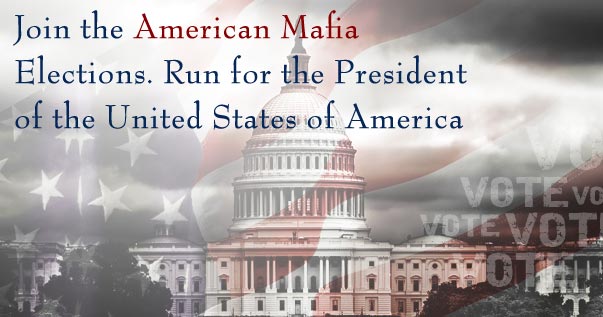 Protect yourself from your enemies with bodyguards, or hire a couple of lawyers to save you from going to Jail. Get yourself out from the Federal Jail, or even Death Row. You will be amazed of the complexity of our mafia game and pleased to be a part of a great mafia community.
Join us today! No email confirmation, or activation required.

American Mafia® game
Join the American Mafia® game
Welcome to THE premiere American Mafia® Online multiplayer game!
Wipe out rival gangs, become part of a major crime family, and even become the Don in this multiplayer online game! Go to the mattresses, send your enemies to sleep with the fishes, fit your foes with cement shoes – all in this free Mafia game.
Join the American Mafia game and gather your own online Mafia Family together to vanquish foes, fight for power and money, become an earner, kill your enemies, rig elections, buy politicians, even own the President of the United States of America!! Go from Citizen to Godfather, Capi di Tutti Capi, and Wise Old Man, run for office or even become a Cardinal in the Church in this fast-paced Mafia online game.
You'll be on your way to becoming one of the most respected and feared American Mafia members in the world! Please visit our Help area and learn how to get started in this fast-paced, action-packed American Mafia adventure!
Just as you were told when you were a kid, you could become the President! Or the Don of your American Mafia. Anything is possible, in this free multiplayer online game.
American Mafia® Game Blog
Jan-19-2013 at 19:39 PM
American Mafia is one of the best games i have played. Its the only Online Text Based game that i have played for roughly 2 years! Its a very good game, well organized. I am glad i found it because i am hooked.
Sep-02-2012 at 16:04 PM
I have risen up for a lonely thug to a Capo di tutti capi, I have been a nobody and became a somebody. In American Mafia you can be a nobody one day and a legend another, Come to the only game around where opportunity is there for the taking. Join American Mafia and become a legend like me.
Aug-17-2012 at 19:58 PM
There are just a few benefits in joining the American Mafia game. The American Mafia game will protect you for the first 3 days. Nobody will be able to harm you, or end your life. You can rank very fast and search for an honorable Family that will protect you and show you the ropes. You can be on your way to Fame and Fortune in no time. Join the Mafia!
Feb-03-2012 at 16:18 PM
Invite your friends and win Cash and Points in most exciting American Mafia game on the Internet.
Dec-30-2011 at 18:33 PM
Happy New Year from the American Mafia game.
American Mafia® Newspaper
May 19th, 2013
A view in a State Cardinal's life in the American Mafia game.
May 19th, 2013
A true tale from my life in the American Mafia Game.
May 9th, 2013
I was pissed off. A demon kept acting like she wanted to get freaky then would laugh and run away. I was worked up and hot as hell. I had to get out of this place...
May 9th, 2013
It's Dark outside and a slow rain is falling. The surroundings seem to be a heavily forested park. A single man is visible, with a large trash bag on the ground next to him.
May 4th, 2013
A secret meeting. My own brother, Shamrock, newly brought me into the L'Elite Corleone crew. My first big job: Kill a traitor who has been providing our enemy with Intel on our family activities and plans.
Last Mafia Residents Online
American Mafia® game Newsletter
American Mafia® Twitter Feed
Follow the AmericanMafia.org on Twitter. Live feed coming soon!